This week, Manchester City finally announced ticket information for the upcoming Champions League fixture against Real Madrid. After a very reasonably priced Champions League group stage, which saw a package deal of all three home games average out to pretty reasonable individual prices (depending on where in the ground you sat), I'd naively half-expected that the club had recognised the malaise and indifference surrounding the Champions League which surrounds the fanbase. Alas, how wrong I was…
I sit in the lower-tier of the Family Stand. I have a season ticket but I'm not on any cup schemes. A typical ticket for a cup game can cost anywhere between £15-25, depending on the competition and the quality of the opposition. The Champions League bundle, previously mentioned, averaged out to £15 per match, albeit for games against quite 'un-sexy' teams.
For some perspective, the home leg of the Carabao Cup Semi-Final against Manchester United is costing me, as a season ticket holder, £20. My 19-year-old brother is joining me for £15. Granted, the Carabao Cup is probably the lowest priority when it comes to competitions, however for a Manchester Derby this is pretty incredible pricing.
So how much is the Champions League Round of 16 tie against Real Madrid going to cost? Well, my own estimations were based off the Manchester United tie and the previous Champions League matches. I'd expected £25, maybe £20 if City were feeling particularly generous.
Needless to say, the club are not feeling generous.
Even sitting in the cheapest seats, which I already do by default, this match would cost me £40.
Now, some fans of other clubs are probably looking at the idea of paying £40 for a ticket and thinking, "what's the problem, that's what we always pay for cup games?" and that's probably fair. For example, a couple of mates from work invited me to join them in the home end at Manchester United for the Old Trafford leg of the Carabao Cup Semi-Final and the cost of the ticket (although almost certainly not the cheapest available on the first day of ticket release) was £46. I understand that this is a bit like crying about Tesco increasing the price of their chicken from £3.80 to £5.00, when Waitrose are charging £11.00 (other chicken providers are available). It's still comparatively cheap, but that doesn't make the price increase any less ridiculous.
In the vacuum that is Manchester City and their ticket prices in cup competitions, this is pretty extortionate. We're in the Round of 16 in the Champions League, literally nowhere near the final, and the cost of an individual game is almost triple that of the group stage games.
The worst thing is that, for a game like Manchester City vs Real Madrid, the club's decision to raise prices will probably be justified because it's Real Madrid. Plenty of people will visit from abroad to come and watch two of the biggest teams in Europe play a game. Even if the stadium is 70% full, they'll end up making more money on gate receipts than they would have if any Group Stage game had sold out (which, even at a reduced cost, they definitely didn't).
Even factoring in this slight increase in 'tourist fans', will the Etihad be full? Absolutely not. I've seen a lot of fans on Twitter complaining about the ticket prices for this game and, whilst I've no doubt that many of them will just suck it up and buy the tickets anyway, there will be plenty like myself who either can't afford it or just simply don't want to vindicate the club's decision to increase prices like this.
The club just simply doesn't understand the fans' perspective on the competition. The likes of Txiki, Ferran and Pep, who have all come from Barcelona, a club which has a huge amount of history in the Champions League and are one of UEFA's poster boys as a result, all believe that the competition is the pinnacle of football. Of course, you don't have to be the best team in Europe to win it, but it brings a level of prestige to your club and yourself as a manager that is impossible to ignore.
As a result of this, they expect City fans to think the same way and are under the impression that being in the competition for a sustained period of time will just make the fans naturally more appreciative of the competition, when in reality the exact opposite effect is happening. The Champions League exit to Spurs last season was the nail in the coffin for me – it stopped mattering to me after that. We couldn't win when the referees were incompetent and getting stuff wrong, then VAR came in and made sure we couldn't win. The level of contempt which UEFA clearly holds for the club because they were smart enough to exploit the large and numerous loopholes which FFP left open to them immediately gets the backs up of the fans and, whilst neither of these are factors that the club can control, they should at least be able to recognise that it isn't a premium competition to the average match-going fan and so premium prices will often not be accepted.
But no doubt we'll play against Real Madrid with between 45,000-50,000 in attendance. 'Football Accumulators' and @Immortal_Kop will have a great time counting the empty seats on Twitter because there'll be plenty of them. Pep Guardiola will bemoan the fans' lack of love for the competition, as he seems to do every season, and shake his head as the fans boo the Champions League anthem before he puts out an over-thought, unnecessarily different team to anything else he's put out before. We won't win the competition and the whole sorry cycle will repeat itself.
When the club announced the ticket prices for our Quarter-Final against PSG in 2016, there was plenty of backlash from fans. £50 was the amount I would have had to pay for a ticket as a non-cup scheme season ticket holder and I wasn't prepared to pay it, just like plenty of others. This backlash obviously had some kind of effect, as the Semi-Final against Real Madrid which followed was reduced to, if my memory is correct, £40. A price I was happily willing to pay for a Champions League Semi-Final, the first in the club's history.
Now, however, in the Round of 16 of a competition I don't have a huge amount of love for, in the middle of January after a pretty costly Christmas period, I have absolutely no desire nor, quite frankly, the capability to fork out that kind of money.
When I first bought my season ticket, it was my only priority in life. I got my first full-time job when I turned 22 and as soon as I'd signed the contract, I went home and got myself on the waiting list for a season ticket. It was a dream of mine to own a season ticket and now I finally had a reason to do so. I was living with my parents and paying my piece towards the house bills etc, though with nothing more than that going out monthly. City were the top priority, I attended every home game with ease.
Then, in 2018, I moved out and rented a flat opposite the Etihad with my girlfriend. My monthly outgoings increased slightly but then so did my income. I could get from the front door of my flat to my seat within the stadium in, on a good day, ten minutes, making the idea of going to games regularly much more appealing. Buying tickets was something I had to start accounting for when it came up but I made it work.
Last August, I then bought my first house with my girlfriend. Monthly outgoings have increased at a more rapid rate than my income and I now live further away from the stadium than I ever have. My season ticket remains but, if the tickets aren't the right price, cup games are falling by the wayside, especially if they're already easily accessible via television coverage or *cough* the internet.
City are no longer the top of my list of priorities financially.
This is the case for many City fans. The club have been rather stealthily employing season ticket price increases over the last decade, with only one freeze occurring within the last ten years. The increases have been marginal, only around £10-15 per season which, as somebody who pays via the monthly direct debit, is £1.50 per month extra. Not a bank-breaking amount. However, in the last five years, my season ticket has increased from £500 to £550.
In another five years, it's highly likely that I'll be paying £600 for a season ticket and I don't know if I'll be able to justify that kind of outlay.
Plenty of fans can't justify the extra outlay already since the recent increases and, whether by protest or by genuine inability to afford it, have decided their season ticket is something they're not prepared to keep paying for. As a club which doesn't boast the casual tourism numbers of Liverpool, Manchester United, Arsenal and, to a lesser extent, even Chelsea, the club isn't in a position to be forcing out fans by applying annual price increases. The seats just simply won't be filled by thousands of baying fans from Singapore or Indonesia who are happy to buy the tickets in place of the locals who are refusing to fork out.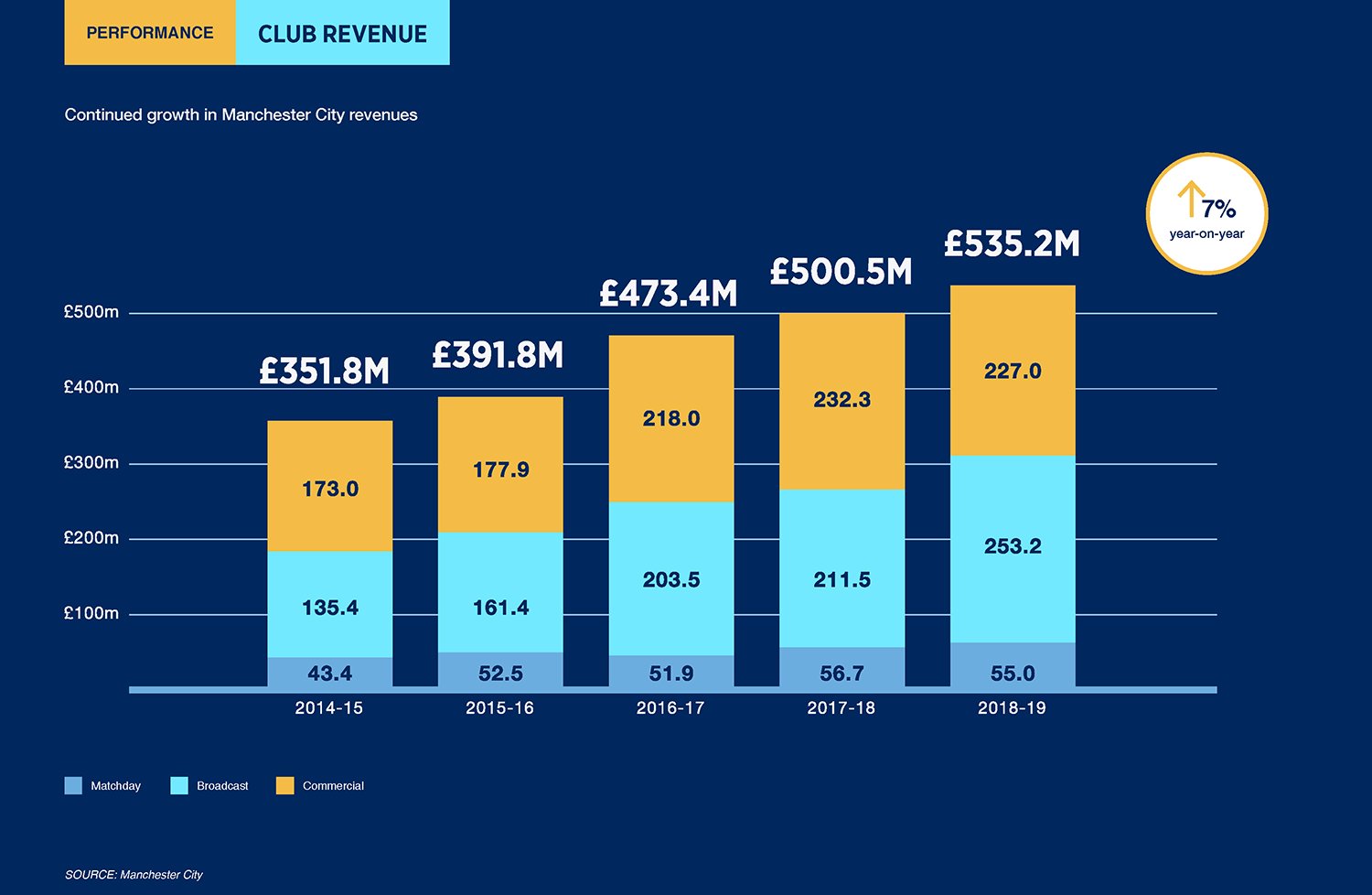 This has been reflected in the finances which the club posted in November of last year. The club were happy to report that revenues rose 7% to just over £535m, however the bulk of it came from increased broadcasting revenue. Commercial revenue decreased slightly but, more interestingly, the small section at the bottom also saw a slightly reduced number. At a casual glance, you'd just see the Matchday revenue segment be slightly bigger than the previous season (and this bigger segment is correct for boring mathematical reasons), however the number associated with said figure decreased ever so slightly.
Despite the price increase across the board for season ticket holders, Matchday revenue actually decreased compared to the previous season.
Could this be due to maybe a cup run of home games in 2017-18 which wasn't seen in 2018-19? Well, in 2017-18, the club played 27 home games in all competitions. In 2018-19, this number actually rose to 28 and, with it, revenue should have also risen, yet it fell by nearly £2m.
Fans are clearly responding to the price increases and not in the way the club would really like. Whether it's a case of fans cutting costs elsewhere by sacking off match programmes or giving up their half-time pie and chips (which are also extortionately priced), cuts are being made to cater for the rising ticket prices. Sure, the tickets themselves are fixed money and the club naturally wants to ensure that they can secure as much revenue as possible but it's coming at a very legitimate cost. Raising the ticket prices is actually reducing the revenue and, whilst the graph suggests that any reduction in Matchday revenue is only temporary, is it really worth the risk?
This is a point which has been laboured, yet it is painfully true, but simple maths tells you that, with 36,000 season tickets on sale, if we assume that everybody got a £15 price increase (which they didn't), the club makes an extra £540,000 per year as a result of these increases. Not an insignificant sum of money, granted, however this probably amounts to about two weeks of Kevin De Bruyne's wages, including his bonuses. It's peanuts to a club like Manchester City which is boasting record revenues and running on a profit. We are one of the richest clubs in the world yet fans are still treated like customers.
As I said at the beginning of the article, on the whole City's cup ticket prices are very good. Domestic cups are incredibly well priced and allow for plenty of families and non-season ticket holding fans who might not get to games very often the chance to watch their team play football. There is a lot the club does right in this regard. However, there is much more they do wrong with ticket prices on the whole.
I sincerely hope that this Madrid game is a one-off. I pray that it's driven purely by the Real Madrid brand recognition and a knowledge that, even with a reduced attendance, they'll see a spike in matchday revenue on that day regardless. I hope that, going forward, season tickets are frozen more than once in the coming decade and that the concerns of the working class fans, those who are being frozen out, are heard.
Despite this I expect that, come this summer, I'll be seeing a £10 increase on my season ticket while we fork out £70m on yet another record signing. I'll probably have a choice to make about whether or not I keep my season ticket sooner than I'd like and I suspect that, should we reach the latter stages of this season's Champions League campaign, the PSG prices will be back. And I won't be going to those games, either.
---
You can get in touch with the author directly here: @joebutters
Follow us on twitter for live updates: @City_Xtra