Welcome to part two of the loan review for the past season and part one can be found here if you missed it!
This group focuses on the individuals who spent their season in the Championship or the lesser known leagues of Europe, though it is still a promising group. Just a reminder, only players with a transfer value larger than $1 million were considered for this report. With that said, let the loan recap continue!
Ante Paleversa – HNK Hajduk Split
The 19-year old Croatian joined the Blues in January for a reported transfer fee of £7 million from Hajduk, where he has stayed on loan for the remainder of the season. Paleversa grabbed City's attention despite not playing on the senior team until this season, and is widely regarded as one of the best young midfielders in the Croatian league. He can project as a true defensive midfielder, yet his box-to-box versatility has pushed him onto the left side of a diamond at times this season.
Paleversa admits he must still improve on the defensive side of the ball if he'll ever warrant consideration to step into Fernandinho's role, but has shown to have the mentality to progress quickly. The captain of the Croatian U-19 National side contributed 2 goals and 1 assist this season across 27 league appearances. Paleversa also has a passing range that attracted Guardiola, but we'll have to wait to see him in a City shirt as he is still considered a project and will remain in Split through next season.
Luka Ilic – NAC Breda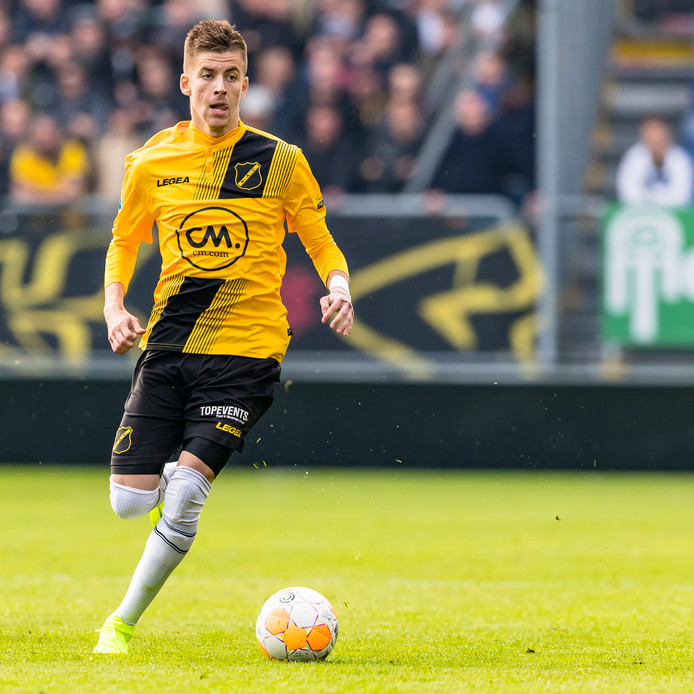 The young Serbian struggled with injuries must of this season at perennial City loan partner, NAC Breda, after a move from his hometown club, Red Star Belgrade. But the creative midfielder's 2 goals and 3 assists across 853 league minutes (0.53 G+A/90) does represent an impressive attacking rate if it can be sustained over a full season. With NAC Breda now relegated, the soon-to-be 20-year old will certainly move on from the Eredivisie to continue his growth with a hopefully, healthier season on the horizon. Ilic's talent is undeniable and he's at the age where a breakout is obviously within the realm of possibility , but his trajectory doesn't appear directed towards City's first team right now.
Thierry Ambrose – RC Lens
Ambrose is a French center forward approaching a crossroads as a Manchester City player. At 22, he's reached the final year(s) of his career where he is still considered a prospect and a decision on his permanent future appears imminent. He moved from a loan spell at NAC Breda to a subsequent one with RC Lens in France's Ligue 2 this year.
Ambrose has shown signs of strong potential by establishing himself as a regular in the first team along with 5 goals and 4 assists, yet City's management do not seem keen on integrating into the senior squad in Manchester as his style of play is a poor match for Guardiola's needs. The Frenchman has been candid about his career and appears disappointed he hasn't had more a chance to prove himself. Ambrose's rise has been disrupted by multiple knee injuries unfortunately, but a permanent move away from City seems best for all parties regardless.
Tosin Adarabioyo – West Bromwich Albion
City fans should be familiar with the 21-year old English defender after he saw Champions League action for the club each of the past two seasons before going out on loan to the Baggies in search of regular first-team football. Adarabioyo found just that as he became a rotation player for manager James Shan, who valued his versatility along the backline. Adarabioyo saw considerable action at right back this season, where he did struggle but the resulting progress it may have had on his attacking prowess (2 assists) may give him a better case for inclusion in Pep Guardiola's squad.
He has already made it clear he intends to return to Manchester to fight for his place, stating, "I decided to stay and try to fight for a place and Phil has done the same and it's going well for him. There are just different pathways and I am just trying my best to get into that City first team, because that's what I really want to achieve. We will evaluate in the coming season but Pep said definitely, if I go out and do what I need to do, then I will be in his plans."
Adarabioyo hasn't flashed as much as some of City's youngsters in recent memory, so his future is clearly still in question. But central defenders tend to need a bit more maturation to reach their potential and Oleksandr Zinchenko has provided the blueprint for how a role is won under Pep Guardiola in a defensive position. It's impossible to project if Adarabioyo will do the same, but he appears to have the drive to battle it out with Eric Garcia and Phillipe Sandler in a central defence grouping that appears to be entering a transitional period.
Jack Harrison – Leeds United
Harrison's transfer to Manchester City from NYCFC last January was an interesting one because it is seemed partially motivated as a way to avoid Major League Soccer's convoluted transfer rules with Championship teams circling. Pep Guardiola didn't even seem to know Harrison when asked about him when the move was made and the Englishman was immediately sent on loan to Middlesbrough. Harrison's time there was uneventful but a spell at Leeds United this season has changed the tune on the player.
The 22-year old winger contributed 4 goals and 3 assists across almost 3,000 minutes for Marcelo Bielsa, carving out an important role in the squad. Playing under a manager who has influenced Guardiola greatly can only be beneficial to his overall growth and his ability to transition into City's first team, in the unlikely event that his progression continues to that level.
Harrison had a mouth watering assist in the opening leg of the Championship playoff against Derby County that speaks to what his ceiling could be, but improved consistency should be the goal for next season. Leeds will be among a group of teams interested in a permanent deal for Harrison, but another loan deal is likely as City certainly recognize that his stock will likely continue to rise.
Lukas Nmecha – Preston North End
The recent headlines about Nmecha were prominently due to his international switch from England to Germany, but that should not overshadow the impressive season he has had at Preston North End. The 4 goals (half of which came against Ipswich in the video below) and 5 assists don't jump off the page for a central attacker with more than 40 appearances, but all accounts rave about Nmecha's improvement and ability to contribute in ways not represented on the score sheet.
Preston manager Alex Neil has played him in wide positions for much of the season, despite projecting him as a center forward. Doing so has shaped the 20-year old into a more versatile player while also highlighting one of his primary strengths, making runs in behind the defense. Nmecha ability in link-up play also points to a promising potential, though another loan spell appears best for his development. Preston North End have expressed interest in him returning, though another season there would hopefully include more starts as 17 of his 40 appearances came off the bench.
_____________________________________________________________________________________________
That'll wrap up City Xtra's loan review for the 2018-19 season! There's a ton of exciting talent out there for fans to get excited about and hopefully these guys will contribute in a City shirt someday. We know we didn't get to cover everyone so apologies for that but now you know all the primary loanees as a starting point for your own research!
You can follow us on twitter for everything Manchester City: @City_Xtra