Mother Ducker
The Carabao Cup semi-finals are upon us and Manchester City have ruthlessly disrespected the competition by taking it seriously. Despite coming up against mid-table League One opposition in Burton Albion, Pep put out a team which wouldn't look entirely out of place against Huddersfield in the league.
How we line-up in the @Carabao_Cup tonight!

City XI | Muric, Walker, Otamendi, Garcia, Zinchenko, Gundogan, Silva (C), Sane, De Bruyne, Mahrez, Jesus

Subs | Ederson, Danilo, Stones, Sterling, Delph, Bernardo, Foden

Presented by @HAYSWorldwide

🔵 #cityvbafc ⚽️ #mancity pic.twitter.com/G9QvF6jkq5

— Manchester City (@ManCity) January 9, 2019
As City fans marvelled at the idea of Sané, Mahrez and Jesus being fed by De Bruyne and Silva against a League One defence, certain sections of the media were not happy. Manchester City's number one fan, James Ducker, found it staggering, so staggering that he had to say it twice, that Phil Foden wasn't starting against League One opposition.
It is staggering Phil Foden is not starting against League One Burton at home tonight. Staggering

— James Ducker (@TelegraphDucker) January 9, 2019
This conveniently ignores the fact that Foden had played the full 90 minutes only three days previous to the game but I kind of got it at the time. I was a bit surprised that Foden hadn't started myself. Not quite staggered like Mr Ducker, but surprised. Then the game unfolded. Well, I suppose it technically counted as a game. I'll admit I was bored for the majority of the match – I spent the first five minutes of the second half wrestling with the Etihad Wi-Fi trying to book train and hotel tickets for the final – but James Ducker was made to eat his words and take his humble pie when Stockport's finest came off the bench with about half an hour to go and scored the sixth goal of the match. Surely this would earn Pep a bit of credit as Phil Foden reaches three goals for the season in total. Surely?
Burton were crushed, as expected, and yet Phil Foden still started on the bench. Guardiola claimed David Silva needed the minutes but this was a moment that helps to explain why Sancho & Diaz left City #MCFC https://t.co/9uSQ1skRE8

— James Ducker (@TelegraphDucker) January 9, 2019
Oh. Maybe not.
It became apparent that Ducker's tweet pre-game was his golden ticket. He didn't even have to pay any attention to the game, despite clearly being sent there to watch it, because he'd sent out a tweet that had riled up City fans. His narrative was set. He could have written most of this article half an hour before kick-off because, no matter how well City or Foden may have done, he'd already decided that the talking point was going to be that Foden didn't start the game and that this was yet another sign of the failings of their academy.
Phil Foden is a ridiculously talented player. It's mad to think that somebody who's a born and raised City fan from Stockport is actually capable of potentially reaching the heights that he's clearly capable of. With that said, players like Sancho and Mbappé have set some ridiculous benchmark that now every single club is expected to meet when it comes to a talented youngster. If you're 18 and you've got potential, you must play every single week, you shouldn't have to learn about earning your place in a team on merit. If you aren't playing weekly, you must leave your current club, no matter who the manager or which club.
Ducker neglects to even acknowledge the fact that Eric Garcia, who had just that day turned 18, was given a start in defence in front of 20-year-old Arijanet Muric. I understand that there's a difference with the way players like Foden are spoken about compared to Muric and Garcia. Foden is English and earned the Golden Ball at the U-17s World Cup, non-City fans don't care if a Kosovan keeper or a Spanish centre-back make an appearance for them. But journalists should. If you're going to write an article about the fact that Brahim Diaz and Jadon Sancho left because academy players don't get chances, you probably shouldn't have picked a game where two academy players started to make that point.
All of this is before the actual final result was even brought into question. Manchester City's number two fan, Mark Ogden, had this to say on the scoreline itself…
There's also a professional etiquette of not taking the piss. Debatable whether City could have eased up after six…

— Mark Ogden (@MarkOgden_) January 9, 2019
The implication here is that somehow deciding that passing it around your back four for the rest of the game, patronising the opposition as if to say "we're going to take it easy on you now", is not taking the piss. Scoring goals and doing what you're supposed to do during a game of football, however, definitely is taking the piss.
The oddest thing about this is that apparently City should have stopped at six. Is six the sweet spot for Ogden? Losing by six goals is alright, you can leave the ground with your head held high, but nine goals is just too far.
The worst thing about this is that both of these journalists work for huge media outlets. The Telegraph and ESPN employ these people to inform people about the game and yet their hilariously obvious bias is what they're giving people. City can't win, there's always a caveat. We take a competition seriously and score as many goals as possible, that's wrong. We only bring our top academy prospect on for the last half an hour and he only scores one goal, that's wrong. We're not good, we're just disrespectful.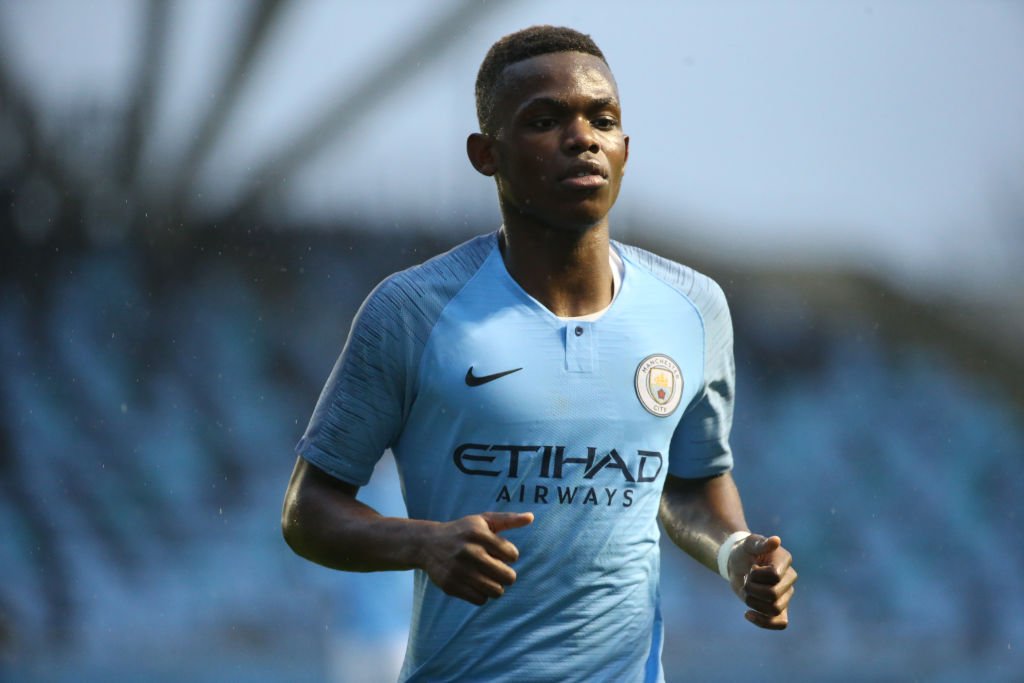 Academy exodus continues?
In an ironic twist, I will now follow a scathing piece about Ducker's derision towards our integration of academy prospect with a player who is potentially going to leave the club due to derision towards our integration of academy prospects.
Rabbi Matondo, highly rated Welsh youngster who earned his first senior international call-up a couple of months ago, is reportedly the latest player to refuse to sign a professional contract with the club. The reasons for his rejection are unknown just yet. He could be holding out for more money (he's a Welsh senior international after all) but realistically we all know what the deal is.
City academy star Rabbi Matondo has rejected a new contract offer.

Bayern Munich, Borussia Dortmund, Borussia Mönchengladbach, and RB Leipzig have all watched the talented youngster. [@SunManCity]

Could the Wales international be the next youth prospect out the door? 🤔

— Man City Xtra (@City_Xtra) January 12, 2019
A host of German clubs have reportedly given Matondo a look, to whatever extent that may be, and when Bayern, Dortmund, Gladbach and Leipzig are all taking a look at you, all clubs who have had no problems integrating youngsters into their squad over the last decade, it's difficult not to have your head potentially turned. With fellow academy graduates Jadon Sancho and Javairo Dilrosun currently enjoying great seasons in the Bundesliga, Germany is probably quite an attractive prospect. I get it, I genuinely do.
Honestly, I've not seen anything of him in terms of his footballing ability. I've heard that he's quite good but nothing that would make me assume he's on Foden/Sancho levels of potential. Would his departure annoy me? Too right it would, he's an 18-year-old who's decided he's going to hold the club to ransom to leverage either more playing time or more money, that's always going to be annoying regardless of the player's quality. If he does ultimately decide to leave and feels that his development will be better served in Germany then so be it, he's entitled to his choice.
Ultimately, I think the problem lies with the media, who are constantly telling players who are 17/18 years old with any decent amount of potential that they should be getting game time. British talent is experiencing a groundswell of potential at youth levels as the restructuring at youth levels which began years ago is finally bearing fruit and the media have absolutely no idea how to handle it. They're still stuck in the mindset that any young player with a high level of technical ability must be the next big thing because they're a rarity, when this just isn't the case anymore. There are dozens of English players in the 17-19 age bracket who are incredibly gifted technically. There's no patience anymore, which is ironic because the best striker England currently have was nowhere near Spurs' first team squad with any level of regularity until he was 21/22 years old.
Callum Hudson-Odoi is supposedly the next big talent to leave for pastures new and I know that the circumstances are entirely different but in the mid-2000s an 18-year-old not getting regular first team football just wasn't an issue. Nobody cared. The ones who did get the games were the freak exceptions, the ones who the media loved to hype up and hastily proclaim they're going to be the next England captain. Now everybody expects them to be walking into the first team for some of the top clubs in the world before they're even old enough to drink.
If the perception around young players doesn't change then we can expect dozens more to disappear abroad. Who knows, maybe the development abroad will help the home nations national teams, but it certainly won't help the clubs.
Some people don't attend Monday night games
It wasn't even half time as City cruised to victory against Wolves before I'd received a text from my United supporting mate commenting on the atmosphere, or lack thereof, within the Etihad. Now it wasn't an electrifying atmosphere, it certainly wasn't quite City vs Liverpool, but it was City vs Wolves on a Monday night. Not exactly the biggest pull in the calendar.
Either way, I didn't think much of it. A United fan watching City win and trying to play it down by mocking the atmosphere, what's new?
Imagine my surprise, then, when I left the ground after the full-time whistle and checked Twitter to see what everybody else had made of it and saw that everybody else had decided that the atmosphere was crap too. talkSPORT made a hilarious joke about the empty seats and it seems like most of 'Football Twitter' joined in.
Heaven forbid a team that's experiencing its fourth home game in a fortnight doesn't fill its stadium to capacity. Heaven forbid that the family stand, on a school night, has plenty of empty spots. Heaven forbid that a Premier League club without the fanbase or tourist attraction of Manchester United or Liverpool doesn't immediately fill up the gaps left by the season ticket holders who've decided to have the night off.
This led to a call on talkSPORT the following morning when Matt, a Manchester City fan, took to the radio to defend the empty seats and made every single point I'd like to think I'd have managed to make myself if I could avoid losing my temper with Micky Quinn, the most blinkered of blinkered Liverpool fans whose ballooning since his days as a professional footballer is dwarfed only by his co-host, Alan Brazil.
"People can't have a go at us about our football so they have a go at our attendances."

"If Chelsea had a 55,000-seater stadium they'd have empty seats."

"Perhaps we don't have as much money as suburban United fans."

Matt the #ManCity fan defends attendances at the Etihad. pic.twitter.com/XpnIX312PY

— talkSPORT (@talkSPORT) January 15, 2019
Despite Micky's indignant insistence that Anfield never has empty seats, it absolutely does. Every stadium in the country is victim to the occasional game where the attendances slip. Not even just cup games, I've watched plenty Premier League games where the attendances have fallen. The rare occasion I watched United playing at Old Trafford under Mourinho practically became a game of spot the fan before he finally got the boot.
Of course, the picture talkSPORT tweeted out conveniently ignores every other angle of the crowd in every other stand that isn't the Family Stand, which were basically full, but that's not good enough bait for a failing radio station which props its limping body up against creating controversy with statements it clearly doesn't actually believe in.
Let's say talkSPORT was right and that the stadium was half empty – who even cares? There's a legitimate conversation to be had about the improvement of club attendances and atmospheres at football clubs across the country but, let's be honest, nobody's interested in having those conversations. It's much easier to just take a screenshot of a half-empty Etihad in the 92nd minute when they're winning 4-0 and to tweet it out with the caption "EMPTIHAD LOL GUARDIOLA MUST HATE IT THERE". Twitter makes morons of us all.
Matt puts it best in his call – City have surpassed the point where we can be mocked for our football and so the low-hanging fruit is all that's left. Attendances, atmosphere, unrelated global politics, financial fair play, our academy, it's just a list of contents in the box marked "THINGS WE CAN USE TO BEAT CITY" that they pull out from the cupboard under the stairs when there's a slow news day or if City look too good. And after 19 goals in 3 games, we certainly do look too good.
Follow Joe on Twitter here!